HARRIS
Product : HARRIS RF-7800M-MP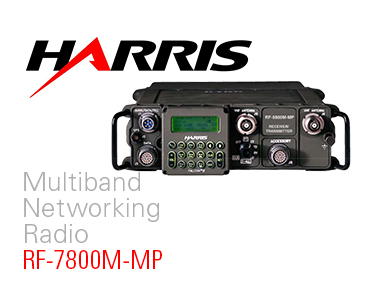 RF-7800M-MP features
> Software-Defined
> SCA v2.2
> Mobile ad-hoc networking
> 30 Mhz to 2 GHz Frequency Range
> Higher data rates > Programmable Crypto
The RF-7800M-MP Multiband Networking Radio is a revolutionary CNR-sized radio that provides secure voice and high-speed networked data services on-the-move. This singlechannel voice and data radio covers 30 MHz to 2 GHz with 20 watts of transmit power. Capable of fixed-site, vehicular, or manportable battery-powered operation, the radio supports narrowband (25 kHz or less) waveforms from 30 to 512 MHz and wideband (greater than 25 kHz) waveforms from 225 to 2000 MHz.
With a Software Communications Architecture (SCA) operating environment, the RF- 7800M-MP is the optimal transition to future-proof, software-defined radio technology. Built-in AES and Citadel encryption provide high-grade security for all transmissions using a 256-bit key. Standard Quicklook ECCM protects narrowband voice and data from hostile interference, while optional TALON CUID and HaveQuick waveforms offer secure groundair communications and interoperability with fielded airborne platforms.
High-speed, networked data is transmitted at unprecedented rates using the Harris Adaptive Networking Wideband Waveform (ANW2). ANW2 uses innovative, intelligent routing protocols that do not require a designated network control station—each radio automatically discovers and joins an authorized network. Ad-hoc networking allows automatic and transparent relay through any available station—and heals the network if any station leaves the network.
To reduce configuration time, the RF-7800M-MP stores and operates on multiple mission fill files. An embedded 12-channel GPS receiver displays local position and supplies automatic position reporting for battlefield situational awareness and hopping waveform Time Of Day (TOD) synchronization. With over 10 times the processing power of currently fielded manpack radios, the Combat Net Radio (CNR)-sized RF-7800M-MP is the wideband tactical radio enabling today's warfighter to take on tomorrow's missions.
PRODUCT OTHER