HARRIS
Product : HARRIS RF-7800M-HH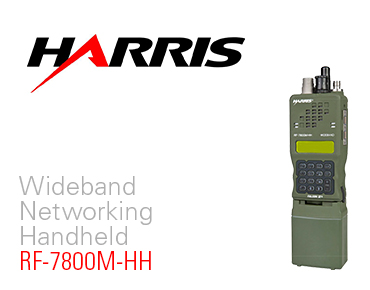 RF-7800M-HH features
> Wideband networking
> SCA platform
> Interoperable with the RF-7800M-MP
> Built-in speaker/microphone
> Full numeric keypad
> Night Vision Goggle compatible display
> Internal GPS
> Supports multiple mission plans
The FALCON III® RF-7800M-HH wideband networking radio provides voice, high speed networked data,
and full-motion video services on the move. The single-channel voiceand data-capable radio covers
30 to 512 MHz frequency range. The dual band radio can support narrowband and wideband waveforms and operates off a single standard battery, providing extended mission life. The radio can support narrowband (25 kHz or less)waveforms from 30 to 512 MHz, and wideband (1.2 MHz) waveforms from
225 to 450 MHz. The radio provides secure communication through the use of AES or Citadel encryption standards.
The RF-7800M-HH enables high speed networked data using the Harris Adaptive Networking Wideband Waveform (ANW2). ANW2 uses innovative intelligent protocols that do not require the presence of a designated network control station—each radio automatically discovers and joins an authorized network.
Ad-hoc networking allows automatic and transparent relay through an available station while also healing
the
network if a station leaves, ensuring network reliability.
The RF-7800M-HH features the Software Communications Architecture (SCA) operating environment, providing the optimal transition to software defined radio technology. The SCA architecture enables loading
of future waveforms. Built-in AES and Citadel encryption provide high-grade security for all transmissions using a 256-bit key. The Quicklook ECCM waveform also protects narrowband voice and data from hostile interference.
The RF-7800M-HH supports full interoperability with Harris' RF-7800M-MP wideband manpack, therefore allowing seamless communication from dismounted soldiers to upperechelon networks. The radio quickly
and efficiently transmits mission-critical voice, data and video in the most challenging urban communications environments. The RF-7800M-HH is the wideband radio that can deliver IP-based mobile ad-hoc
networking to warfighters at the tactical edge.
PRODUCT OTHER